8-bit Memoirs Issue #1
8-bit Memoirs is an eBook containing a collection of stories I remember from my childhood, about the gaming consoles and computers I experienced back in the 8-bit era in the 80s and 90s.

The systems I experienced were the Philips Videopac G7000, the Amstrad CPC and the Amiga.
8-bit Memoirs contains 60 stories, 15 illustrations, 100 screenshots, 50 videos (9 hours in total) and 5 hours of background music while reading - all wrapped into a retrostyled diskmag-like GUI to boost the retro-feeling.
You can download the ISO for free and play with VLC, or buy the "Collectors Edition" on a physical disc to play in any Blu-ray player (including PlayStation 3 and 4 and Xbox One). There's also an online streamable version available, but I only know of one player that supports streamable Blu-ray so far: Kodi v18 - and that's still under development and therefor buggy.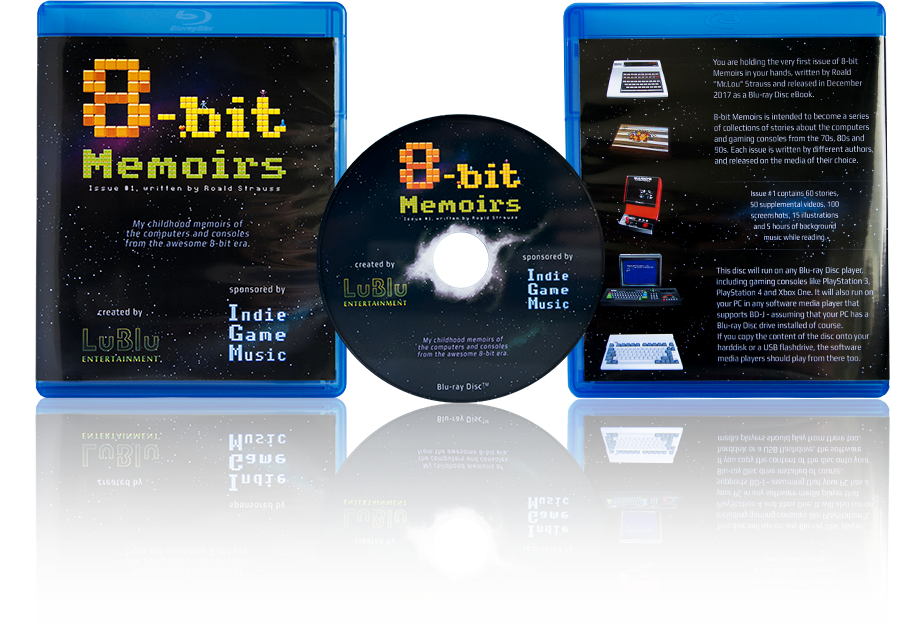 Install instructions
To read 8-bit Memoirs on your computer, you will need a software media player that supports Blu-ray Disc Java. Obviously you'll also need to have Java installed on your computer, in order for Blu-ray Disc Java to work.
Some players that supports Blu-ray Disc Java (BD-J) are:

- PowerDVD (recommended - but not free)
- VideoLAN VLC
- Kodi (from v18)
If you mount the ISO file with a virtual mounter, you'll find a BAT file to start the project for Windows, and an SH file to start it for Linux. But you should also be able to just feed the software player with the ISO without mounting.
Also notice: There are many hardware media centers that can play the ISO from harddisk. See a list at http://www.8bitMemoirs.com